If you are looking for Halloween costumes, Costume Supercenter.com is the place for you.  They have a huge selection of costumes for Infants, Girls, Boys, Women and Men — all at super low prices, too!
I have four boys to outfit for Halloween this year, so we have been checking out the latest in boys Halloween costumes.  Costume Supercenter.com has a lot of New for 2011 items, including costumes for characters from the recently released movies like Cars 2, Transformers 3, Pirates of the Caribbean, The Green Lantern and more.
My sons are huge fans of the hit movies Cars and Cars 2, so it was no surprise that when Luke helped me select which costume to buy, he chose the Lightning McQueen Pit Crew Costume.  The costume arrived quickly and I was pleased at how cute it was – it even includes a pit crew hat!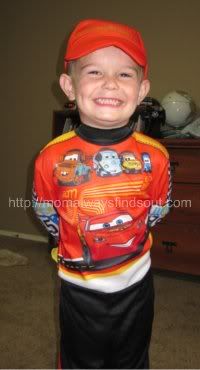 He is already counting down to Halloween this year so he can show off his costume.  I'm glad that we went ahead and got this costume while it was available.  So many times in past years we wait until the last minute to shop at the store for costumes and all the good ones are sold out.  Not this year!  We are off to a head start and thanks to Costume Supercenter.com, Luke is able to be exactly what he wants to be for Halloween.
Head on over and find YOUR family's favorite Halloween costume picks for this year.  There is something for everyone at Costume Supercenter.com.
Disclaimer:  I was provided a Lightning McQueen Pit Crew Costume for review purposes.  All opinions are 100% my own, based on my personal experience with this product.