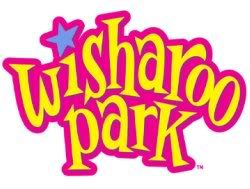 Wisharoo Park
was originally produced as a PBS television show geared towards children ages 3-6.  Its primary purpose is to promote self-esteem, social skills and help children discover their unique personal strengths.  The show's delightful characters use music, dance, and art to entertain children and achieve these aims. 
About Wisharoo Park (from their website):
Wisharoo Park provides children with an entertainment-based learning environment to discover their natural talents and develop fundamental social skills, self-confidence, and an enthusiasm for learning using imaginative play and the power of the "wish". Wisharoo Park draws on research by child psychologists and educators to develop a creative means of using imaginative play and bringing it to the learning process. The show, which aired on PBS stations, has inspired a series of children's books, activities, toys, and now, the online entertainment destination. Wisharoo Park is produced by Dancing Ducks Entertainment based in Cleveland, OH.
For more information, please visit Wisharoo Park.  The Wisharoo Park store has a number of items currently available for sale including Wish Star finger puppets, two-volume DVD set, and 77 original songs – all songs are for sale on iTunes®. Children can also order Wish Star finger puppets online, name these stars and receive a special "Wish Star" certificate.
The Wisharoo Park website features a variety of multimedia content including videos, music, coloring and activity sheets, creative play ideas, games, and more.  The site is updated weekly with new content – so be sure to check back often.
My family recently received a Wisharoo Park DVD and a set of Wish Star finger puppets for review.  My almost 2 and almost 4 year old children enjoyed their introduction to Wisharoo Park and liked the musical parts of the show.  The Wish Stars are the perfect size for small fingers and we are looking forward to the "Wish Star Story" activities to be released on the Wisharoo Park website.
BUY Wisharoo Park DVDs and more at the Wisharoo Park web store
LIKE Wisharoo Park on Facebook and get 3 Free Song Downloads ($2.97 value)
FOLLOW Wisharoo Park on Twitter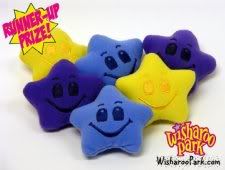 5 WILL WIN THE WISHAROO PARK GIVEAWAY HERE AT MOM ALWAYS FINDS OUT!
TWO GRAND PRIZE WINNERS WILL RECEIVE a Wisharoo Park 2-disc DVD and a set of collective Wish Star puppets ($40 Value) and THREE RUNNER-UP WINNERS WILL RECEIVE a set of Wish Star finger puppets ($20 Value).  Giveaway is open to USA residents ages 18 and up, and will end at 11:59pm EST on July 31.
Enter the Wisharoo Park giveaway by filling out the Rafflecopter Entry Form below:
Disclaimer:  I received a Wisharoo Park 2 disc DVD set and Wish Star finger puppets for review purposes.  All opinions expressed are 100% my own.  Sponsor is responsible for prize fulfillment.